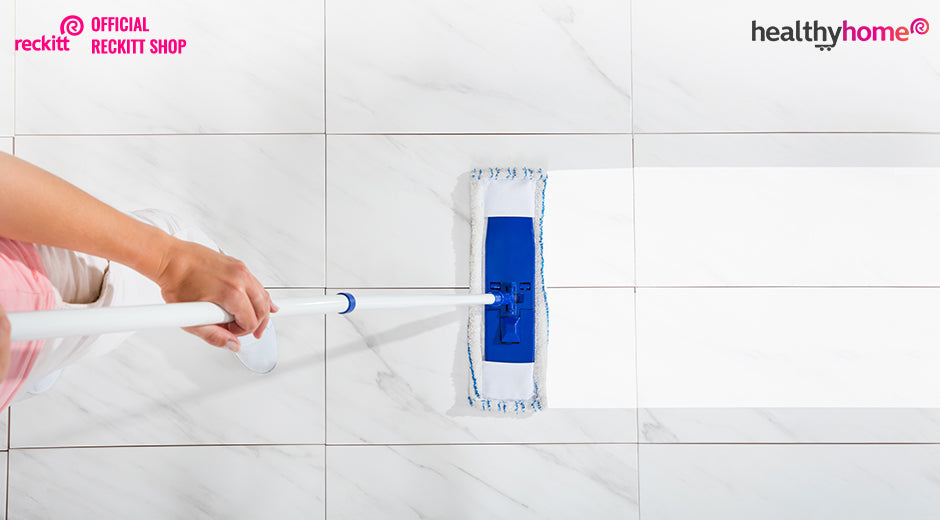 How to use Lizol Floor Cleaner for Multiple Surfaces
Cleaning Grout on Bathroom Surfaces
Cleaning your bathroom surfaces by removing dirty grout is a simple task. Grout, on the other hand, can rapidly become ugly, dingy, and mouldy. You can have your tile grout shining in no time with the correct cleaning solutions and a few simple tips and methods.
Start with a cleanser like Lizol® Bathroom Power Cleaner to clean shower grout or tile grout elsewhere in the house. Begin by spraying the product all over until it is moist, then allowing it to sit for 5 minutes before rinsing.
Please remember to follow the directions on the label while using Lizol products.
Disclaimer: Bleach-based products should only be used according to the manufacturer's instructions.
Tips to Marble Floor Cleaning with Lizol
To avoid stains and degradation, marble, like all other floors, should be cleaned on a regular basis and with care. Here's how to clean and restore the lustre of your marble floor if it's grown old and dirty:
In half a bucket of water, mix one capful (16 ml) of Lizol® Disinfectant Surface Cleaner (4 litres)
No need to rinse, just gently mop the surface.
How to Clean Porcelain Tiles
Porcelain is a popular material for daily household objects such as toilets, sinks, bathtubs, and floor tiles. It is, however, prone to stains, which might detract from its dazzling, white appearance. As a result, it's critical to understand how to properly care for it, as well as how to clean it with the correct chemicals to avoid any harm.
When it comes to cleaning porcelain tiles, we suggest using Lizol® Bathroom Power Cleaner, which is designed to clean pure hard surfaces while also providing long-lasting freshness.
Simply follow the instructions below to get started:
Simply spray straight on tiles in the kitchen, bathroom, and other areas.
Allow up to 5 minutes for the dirt and bacteria to settle before removing them.
Rinse well with fresh water.