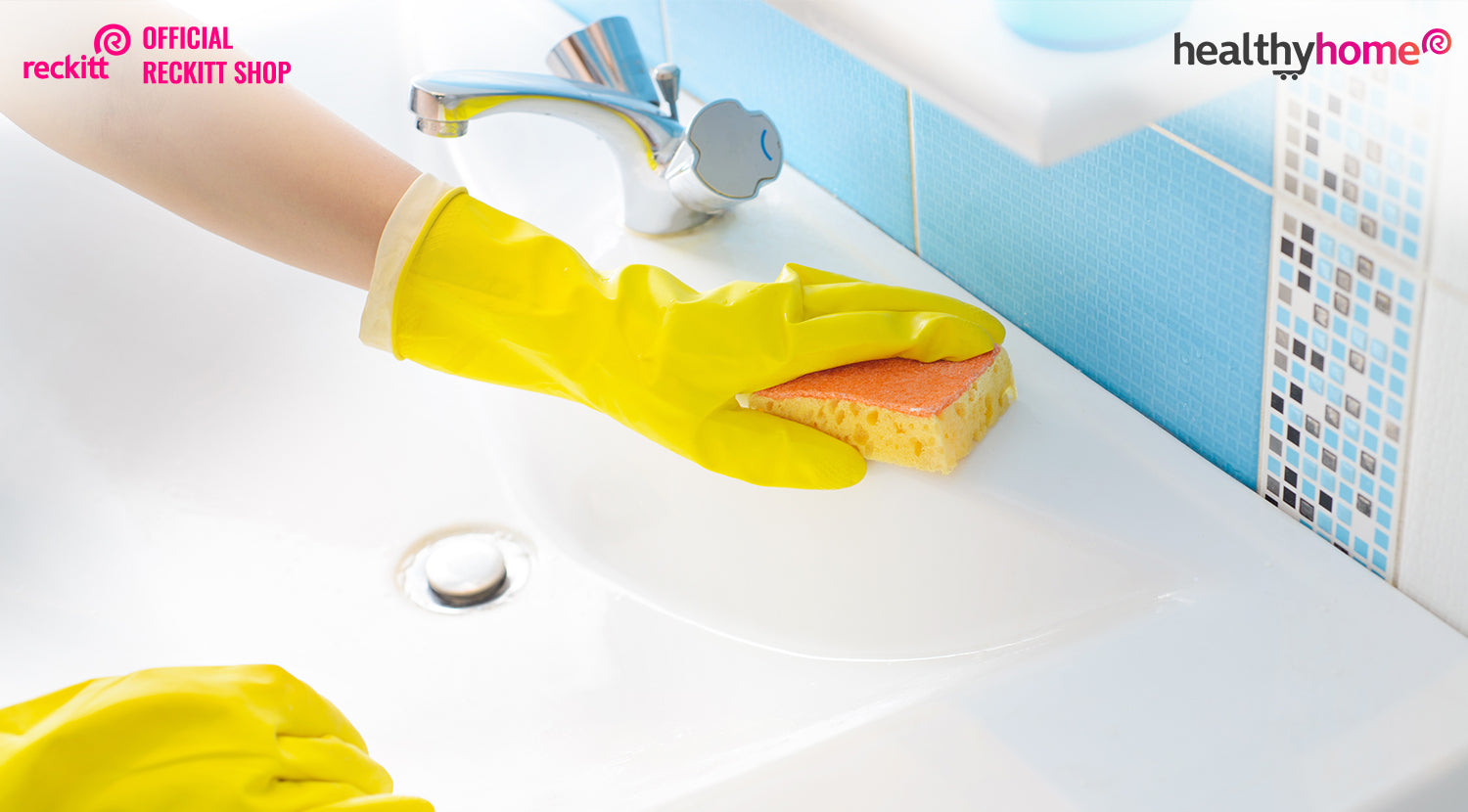 Tips To Keep Your Bathroom Clean & Hygienic
We know that keeping your bathroom and toilet clean and hygienic for you and your loved ones is high up on your list of chores. We also know it's not a job many of us relish. This is why we've come up with some tips for taking the stress out of caring for your bathroom - so you can spend more time enjoying it and less time scrubbing it.

1. Five minutes a day keeps the deep cleans away
Break your bathroom cleaning chores into daily bite-sized slots that take just five minutes. Focus on the following tasks:

Surfaces
Wiping
Polishing
Tidying (eg, towels, toys, toiletries)
For example, spend the first minute tidying surfaces, the second spraying surfaces, then while the surfaces soak in cleaner for a minute, spray the mirrors and glassware. Next spend a minute wiping the surfaces, then your last 60 seconds wiping the mirrors and glassware down.

Do this daily and your deep cleans won't seem nearly as daunting. If it's time for a bigger toilet clean, make sure this is the very first thing you do, as you need to leave a liquid toilet cleaner like Harpic Power Plus to soak for 10 minutes.

Keep a Harpic toilet block such as Flushmatic your cistern or Hygienic in your bowl. This means your toilet is cleaned, freshened and fragranced every time it's flushed. It keeps grime build-up and stains to a minimum – and means less scrubbing for you.

2. Give up the bathroom graveyard
Most people have a drawer of ancient products that they can't bear to part with. Old lipsticks, hair gel with a pea-sized portion left in the bottle, an ancient old comb. For some reason, a little voice tells us that we might need it one day. You don't! Get rid of your clutter and it'll be easier to keep dirt at bay. A de-cluttered bathroom is more hygienic and faster to clean. If you find it hard, spend 10 minutes going through each product sorting into piles of 'yes, no and maybe'. Keep the yes, throw the no and leave the maybe for another week before repeating the process again with fresh eyes.

3. Like in bedrooms, each family member should have their own toiletry drawer
With a personal toiletries drawer or box, your husband and children have no excuse for leaving their personal grooming gadgets, products and toys all over the surfaces, making it harder to keep the bathroom neat and clean. Assign a drawer to each family member and when it comes to unpacking toiletries and cleaning products, you'll be more efficient too.

4. Keep cords under control with toilet-roll holders
If you have wired shavers, hairdryers, straighteners or electric-toothbrush holders, you know their wires can be unsightly and even dangerous. Cardboard toilet roll holders are a cheap, cheerful and cunning way to keep your cords under wraps. Simply store your toilet-roll holder once it is finished. After you or a family member uses a utensil, wrap the cord up and slide the toilet roll holder on top. Easy and neat to store – you'll be able to fit much more in your bathroom drawers. If you're worried about them getting wet, replace them with PVC pipes.

5. Easy towel storage for smaller spaces
In small bathrooms, towels can take up valuable storage space. A unique and beautiful way to create more towel space is to fix wicker baskets sideways onto the wall. Not only does it look fabulous, but it also means you can roll up and slot your towels without having to bend down into drawers. It's stylish and will save space – and your back.

6. Create more surface space
Avoid having toiletries and gadgets all over your surfaces – they look scruffy, leave marks and make cleaning that much harder. One of the best ways you can increase your surface space is by mounting holders onto your walls. Electric toothbrushes often come with wall mounters as do shavers. For toothbrushes and toothpastes, you could mount some flat backed cups as a cheaper option. For cleaning and other toiletry products, a clever way to create more space and have easy access to the products is to use an over-the-door shoe holder. Put each product in the shoe pouch and label it so you know exactly where to find it. You could also store less-used products on a shelf above the door – or even chemical cleaning products that you need to keep out of the reach of children.
We spent many hours in our bathrooms, and it's time we sung their praises. Use these tips to save on cleaning time and enhance every bathroom experience - whether you're using the toilet, playing with rubber ducks with your kids or lying back in a candle-lit bubble bath.