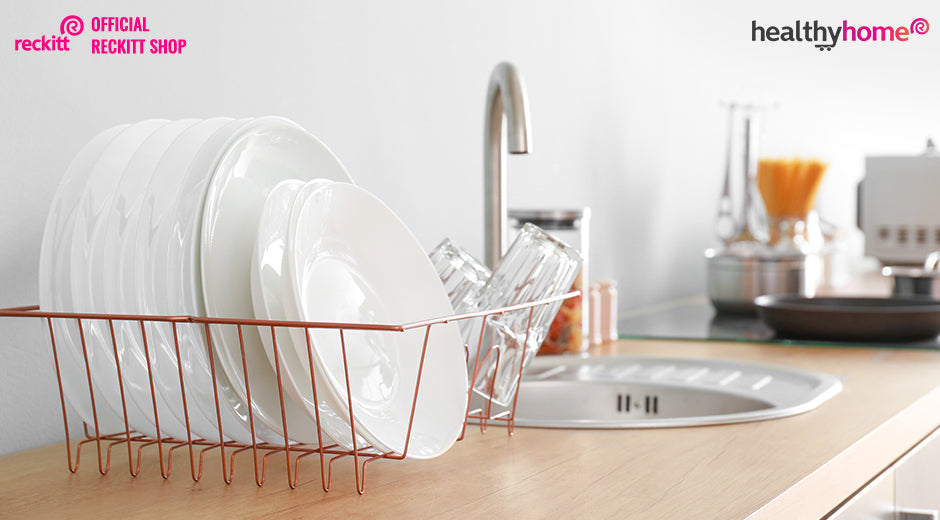 Kitchen Sanitization and Importance of Hygiene
How Do Bacteria Get Around?
Germs can spread quickly when ready-to-eat food is prepared on raw food-infected surfaces, or when cooked food is served on contaminated plates and utensils. In this process, germs are often transmitted from one person to another and in many cases, it also spreads from one family to another. This can easily be prevented, if one makes it a habit to maintain kitchen hygiene, by using surface cleaners, and other home care products
How to Keep Your Kitchen Dishes and Utensils Germ-Free
After carefully maintaining hygienically clean surfaces in your kitchen, it's critical to keep all kitchen utensils, dishes, and equipment clean as well, to avoid germs contaminating your food and causing food poisoning. Cleaning and disinfecting these objects on a regular basis will reduce the likelihood of hazardous bacteria accumulating.
Dishwashing Liquids for Utensils
Food contact surfaces, such as dishes and cooking equipment, can usually be hygienically cleaned by hand washing with detergent and hot water, followed by thorough rinsing with clean water.
When the quality of the water is in question, antibacterial dish-washing soap can be used to clean the dishes before rinsing them with good quality water.
Disinfect the Work Surfaces in Your Kitchen
Fixed or large food contact surfaces, such as kitchen worktops or slabs, should be washed with regular soap and then disinfected with an antibacterial agent that has been proved to destroy bacteria. This will help to limit the risk of cross-contamination from one of your kitchen's most dangerous hygiene hotspots.
Keep Your Scourers and Rags Clean and Hygienic
It goes without saying that the cloths you use to wash dishes and surfaces should be clean; otherwise, bacteria will spread throughout your kitchen. To kill any leftover bacteria, change washing-up cloths once a week and disinfect them overnight. You'd be amazed to learn that simply sitting next to your sink for a few hours can generate millions of hazardous bacteria.
If you live in a hot, humid climate, where bacteria multiply at an even faster pace, maintaining a good hygiene routine is even more crucial.
Tips for Keeping Your Kitchen Tools Clean and Sanitary
Food poisoning is a very common occurrence. Follow these basic hygiene tips to prevent hazardous bacteria like E. coli and Campylobacter from your kitchen and maintain your kitchen hygiene by following these simple cooking hygiene tips
Washing-up brushes, rags, and sponges should all be disinfected on a regular basis
Dishcloths should be washed at the highest possible temperature in the washing machine, or disposable dishcloths should be used
Every time you use a mop or a bucket, it should be cleaned, disinfected, and dried
Surface cleaners and other home care products should be used while mopping
For more such products which are an essential part of every household, explore more and buy Dettol Kitchen Dish & Slab Gel online along with other home cleaning products at healthyhome. Order other personal care and home care products online by availing of the best offers available on the website.